NATIONAL REGISTRY MOBILE APP



The National Registry of EMTs Mobile app allows Nationally Certified EMS Personnel (EMR, EMT, Advanced-EMT and Paramedic) to track education, renew their certification and manage their agency affiliations. In addition, candidates are able to manage their profile and check on their application status. Medical Directors and Training Officers can also use the app to complete tasks such as manage providers and agencies through National Registry Mobile App.
Nationally Certified Providers
Add courses and attachments, view your transcript and easily submit your recertification application from your mobile device
Training Officers
Add courses, sign off on skills and education, view your roster and approve agency affiliation requests.

Medical Directors
View your roster(s), sign off on skills and contact providers from your mobile device.

How To Get Started
Get the app
Download the National Registry app by going to either the app store (for Apple users) or the Google Play Store (for Android users) and search "National Registry".
Sign in
Sign in with your National Registry online account username and password. If you do not already have an account, please create one here.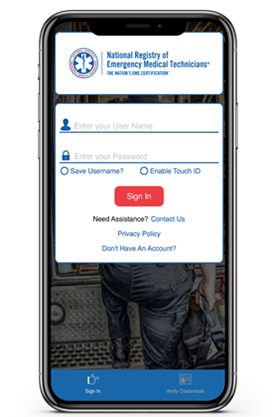 Common Features
Features available to all users

Sign in securely with Touch ID or Face ID (for Apple) or Fingerprint Recognition (for Android)
Verify National Registry status for any provider by name or registry number.
Contact the National Registry using the "Contact us" feature
As a Provider, easily maintain your National Registry certification and account from anywhere

Manage your profile, including address, phone number and e-mail updates
View, add and remove your agency affiliations
Add courses, add attachments for courses and view your transcript
Manage your education for recertification, submit your recertification application and check on the status of your recertification application.
Add courses while you are on the go

Easily add courses to your Professional Transcript as you attend.
Never misplace paper certificates: The National Registry Mobile app offers the ability to take a picture or upload a file of any supporting documentation to attached to a course you took.
Track your Recertification Cycle and submit your recertification application

Easily check on your expiration date and recertification application status with a few taps on your mobile device.
Manage your education for recertification, fill out, pay for and submit your recertification application all securely from your mobile device"
As a Training Officer, access your agency information and keep up to date with your providers

View your agency's roster and which providers are due to recertify for the upcoming season
Sign off on provider's skills and education
Approve affiliation requests for your agency
Review Medical Director actions taken against providers in your agency
Approve Inactive to Active requests
Add courses for your agency and assign attendees to the courses
As a Medical Director, access your agency information and keep up to date with your providers

View your agency's roster and which providers are due to recertify for the upcoming season
Sign off on provider's skills
Approve Inactive to Active requests

Provider How To Faq's
Add A Course
Setup Touch ID
Add Attachements/Certificates
Training Officer How To Faq's
Add Course
Verify Skills and Education
Use the Agency Roster
Medical Director How To Faq's
Verify Skills
Use the Agency Roster​​​​​
Disclosure
Some features are available for certain accounts only.
Face ID, iPhone® and Touch ID are registered trademarks of Apple®, Inc