About The National Registry
The National Registry, established in 1970 as a non-profit organization, is the
Nation's Emergency Medical Services Certification
organization. The mission of the National Registry of Emergency Medical Technicians has always been centered on protecting the public and advancing the EMS profession.
Our Mission
The National Registry's mission is to provide a valid, uniform process to assess the knowledge and skills required for competent practice by EMS professionals throughout their careers, and to maintain a registry of certification status.
Board Of Directors
The National Registry is governed by a Board of Directors comprised of some of the most prominent figures from all segments of the EMS community and the general public. Our board members are committed to public protection and quality patient care.
Professional Accreditation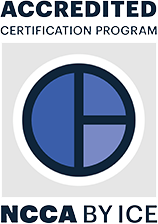 The National Registry is accredited by the National Commission for Certifying Agencies (NCCA), the accreditation body of the Institute for Credentialing Excellence. The National Registry maintains NCCA accreditation for each of our four certification programs:
Emergency Medical Responder NREMR)
Emergency Medical Technician (NREMT)
Advanced Emergency Medical Technician (NRAEMT)
Paramedic (NRP)
Credentialing:
Protects the Public
Assures consumers that professionals have met standards of practice
Advances the profession
Establishes standards of professional knowledge, skills, and practice
History Of The National Registry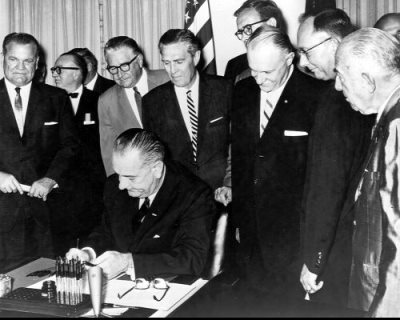 It has been nearly five decades since President Lyndon Johnson's Committee on Highway Traffic Safety recommended the creation of a national certification agency to establish uniform standards for training and examination of personnel active in the delivery of emergency ambulance service. The result of this recommendation was the creation of the National Registry in 1970. Prior to that time, a national certification standard for emergency medical care did not exist.
Since then, the National Registry has certified nearly two million EMS providers. Today, over 400,000 individuals are currently Nationally Certified at the Emergency Medical Responder (EMR), Emergency Medical Technician (EMT), Advanced-EMT (AEMT), or Paramedic level.
How States Use the National Registry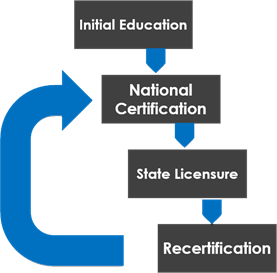 National EMS Certification is an important component of public protection. The National Registry provides National EMS Certification, which is a validated and legally defensible attestation of competency. Almost all states and territories in the United States require National Registry certification before a state license to practice is issued. The National Registry is recognized in every state in the United States, and 46 states use the National Registry certification as a basis for licensure. Learn more about the differences between certification and licensure in this article. In addition, the EMS Compact mandates that all member states require National Registry certification as a prerequisite for an EMS license. When an individual obtains a National EMS Certification, the general public, employers, and state licensing authorities know that the individual has demonstrated competency.
Exam Development
Because the top priority of the National Registry is the safety of the American public, the National Registry is continuously researching methods for the most accurate, precise and fair method of measuring a candidate's competency. Thousands of hours are devoted every year by experts from the EMS medical community on question development, validation, practice analysis, and standard setting.
The National Registry certifies four levels of Emergency Medical Services professionals: EMR, EMT, AEMT, and Paramedic as identified in the National EMS Scope of Practice Model.
National experts in EMS – including state officials, educators, employers, and EMS physicians – write exam questions (items). A single test item takes about one year to develop and pilot test. Each of the item banks contain thousands of questions. Every question is calibrated to entry-level competency for a certification level. This process ensures the certification examination is both legally defensible and psychometrically sound.
Learn more about the Cognitive Exam process.
Volunteers
The National Registry of EMT's relies heavily on input from volunteers in the EMS community to improve our products and services. Several times a year we gather a diverse group of EMS professionals from across the nation to collaborate with us in areas such as cognitive exam development, psychomotor exam development, publication and software review, practice analysis and others. EMS personnel of all backgrounds and experience levels are encouraged to apply and become part of this prestigious group that is helping shape the future of the National Registry. Learn more about volunteer opportunities and the application process here.
The National Registry Values
ACCOUNTABILITY
We own our actions, follow through with what we have said or committed to, and realize that we are responsible for the consequences of our actions.
COLLABORATION
We are committed to a sincere effort to look beyond ourselves and actively engage with others for the good of the whole.
INCLUSIVENESS
We strive to merge the knowledge of different disciplines, backgrounds, and specialties to better represent internal and external stakeholders.
INNOVATION
We are willing to accept risks and potential failures to identify novel ideas that add value and relevance while progressing our mission.
INTEGRITY
We do what is right in every facet, not necessarily what is convenient or popular, and hold ourselves accountable for our actions.
TRANSPARENCY
We are open and up front with our decisions, and the rationale behind them, ensuring we communicate with internal and external stakeholders the impact those decisions may have on the community.